A track record of growth in the private school sector is attracting the likes of investors such as EQT, especially within credit platforms.
Sweden's EQT Credit, through its Direct Lending investment strategy, has provided incremental committed credit facilities to support the continued growth of Dukes Education Group ("Dukes").
Founded in 2015 by Aatif Hassan, Dukes is a UK-based provider of private premium nurseries, K-12 schools, colleges and summer schools, as well as university consultancy services.
Andrew Cleland-Bogle, Partner at EQT Partners and Investment Advisor to EQT Credit, said: "Dukes comprises a portfolio of schools with outstanding quality and strong academic results. We have been impressed by the high calibre of Aatif and his management team, as well as the track record of growth achieved during our continued partnership."
Cleland-Bogle also remarked that this latest transaction "marks one of several made by the Credit platform in the education sector…"
Aatif Hassan, Founder and Chairman of Dukes, said that EQT Credit's support has been "unwavering" and that Dukes was pleased to have them as "a committed long-term partner" as it grows the "family of best in class schools and educators."
Pension funds are also attracted to the long-term revenue prospects of the sector.
In 2017, a consortium of private equity firms, led by the Canada Pension Plan Investment Board and Baring Private Equity Asia, took Hong Kong-based NYSE-listed Nord Anglia Education private in a $4.3bnall-cash deal. The buyout price at the time represented a reported 18% premium over Nord Anglia's share price, and a 33% increase over the stock's three-month average pricing.
Private school fees have been on the rise and this could be correlated with the rise in demand for a UK education by international students, according to an article published by the Financial Times' Alphaville.
For example, Duke's Cardiff Sixth Form College is geared for both UK and international students, but increasingly international students are taking advantage of a UK-based sixth form education experience with a One-Year GCSE costing based on September 2019 enrolment at £41,860 (tuition £20,300; boarding £21,560).
But there is also competition taking place in high demand private school markets, such as Malaysia, which is home to British sister school, Marlborough College Malaysia, based in Johor. Other Asian nations, such as South Korea, have a high preference to send their children to Malaysia for their education as they find it a good value for money option as tuition and living costs are much lower with or without boarding plus the added benefit of British teaching staff.
Some parents go to great lengths to provide their children with an excellent and internationally recognised education. This could even entail renting a property nearby the school so that the student and a member of the family or even a nanny could take care of the student while the parents remain back home to work and transfer funds for the rental and tuition costs.
Marlborough College Malaysia, for example, also attracts students from neighbouring Singapore with annual full boarding costing approximately £35,383.
In a report published by The Independent Schools Council (ISC) there were approximately 28,910 non-British pupils whose parents live overseas or 5.4 per cent of all pupils. There are also 26,370 non-British pupils whose parents live in the UK or 4.9 per cent of all pupils.
"This alone would make up more than a tenth of the pupil population – a sizeable enough portion of demand to impact overall fees," noted the Alphaville report.
But facilities are for the benefit of all students, so parents who do not want to relocate their children out of school, especially when during their crucial GCSE and A-Level years, often justify cost hikes.
The FT Alphaville report said that international students could be "be over-represented at schools with higher fees" because their impact on demand is greater than the 10 per cent spike in pension and National Insurance costs for schools starting in 2004.
"It is, either way, a great increase on the comparable data from 2000, when 'foreign students' numbered just 8,012, or less than 2 per cent of the total."
Growth markets
Qualified Education Agents in a 2019 ICEF i-graduate Agent Barometer indicated the markets that are becoming more interesting to their students over the past 12 months.
Two-thirds (66%) said Canada has become more interesting, and over half (54%) said the same about Germany. At least four in ten mentioned Ireland, the UK, Malta, the Netherlands, and Japan as becoming more interesting.
The survey revealed the" red-hot popularity" of Canada, growing interest in Germany, and recovery over 2018 for the US and UK in terms of where agents are referring students.
However, the report said that Canada is perceived to be the most problematic of the major English-speaking destinations in terms of obtaining study visas, and agents consider study visas to be the biggest barrier in 2019 to their ability to refer students.
Agent-reported shifts in destination popularity are more broadly reflected in the following chart, which maps agent perceptions of increasing or declining popularity for individual destinations over the past year.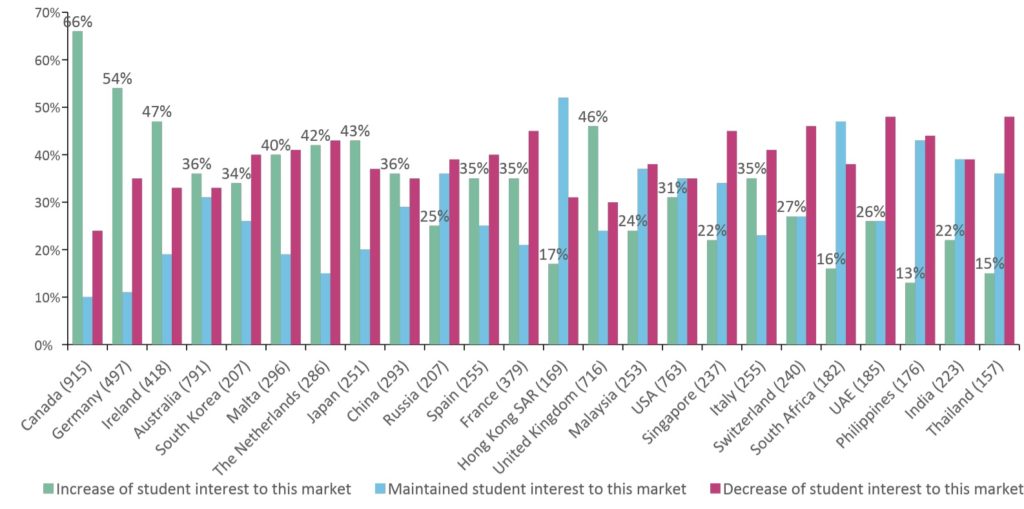 Agents perceive Australia, the UK, and New Zealand as relatively less difficult when it comes to obtaining student visas. The US and Canada are also seen as countries where work visas are considered to be harder to obtain than in the other three major English-speaking destinations.
In 2019, agents are less troubled than at any other point in the past decade by the global economic and political environment in terms of their ability to refer students to foreign institutions.
Agents consider Facebook to be the most important social media platform for reaching out to students and to market programmes in general. Interestingly, 40% said that Twitter is the platform "to not use," compared to 25% for Linked In, 22% for YouTube, and 4% for Facebook.
Secondary: The Gap Year Investors are missing out on?
Agent representation for the secondary school sector is of the "fairly niche variety" – almost half of the agents (48%) said they did not recruit for secondary schools.
According to the ICEF i-graduate Agent Barometer , the next largest proportion (38%) said they represented between 1 and 10 secondary schools, with fewer than 1 in 10 representing more schools than that.
"Those that do represent this sector primarily appreciate the benefits of their work in this area diversifying their business portfolio (38%) and raising awareness and prestige of their agency (32%).The main areas of demand in this sector are International Baccalaureate (IB) programmes, public schools with homestay/guardianship, and private schools with boarding accommodations," said the report.